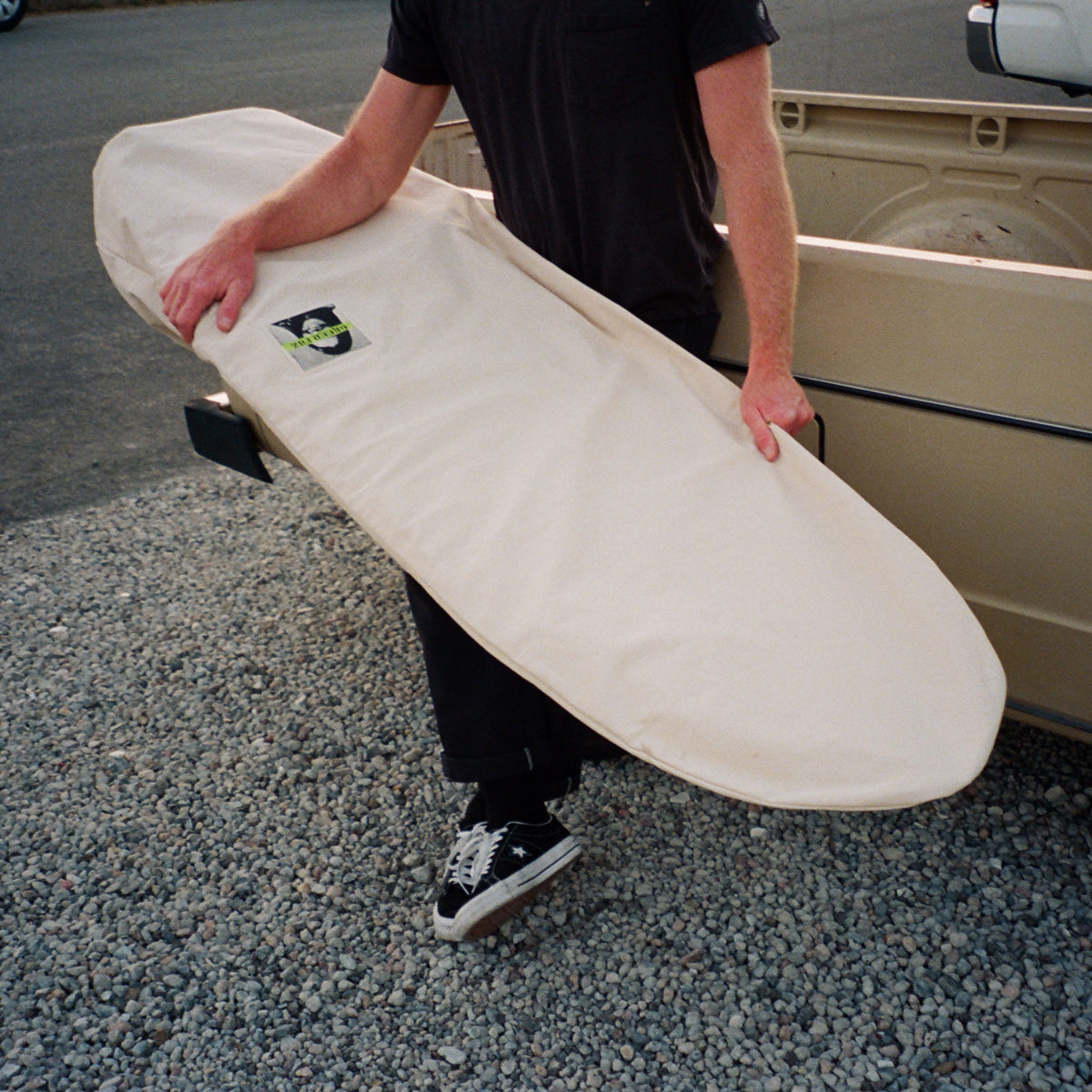 In this article we'll explain the best use cases for our Canvas Board Bags & when you should consider one of our Padded Board Bags instead. If you have additional questions or if there's anything we missed, email us at heygreenfuz@gmail.com.
Why Canvas Board Bags?
We started making DIY board bags / socks in 2012 using thrifted fabric from local discount marts. We recalled the canvas Julie Designs bags we had as groms & quickly found that the canvas options we came across were the most durable. We tried lots of canvas options & settled on an organic Cotton Canvas Duck material which we now source from mills here in the USA. The canvas was lightweight, durable & had a cool throwback vibe.
Through the process of making & using these bags for more than 10 years, we believe canvas board bags are a better alternative to board socks & our preferred everyday bag type. Here's why.
Green Fuz Canvas Board Bag Benefits
- Lightweight  
Like stretchy terry cloth socks, Canvas bags are light weight. When not in use, they fold up about the size of a beach towel and are easy to store in the car, at the beach or at home. 
- Durable 
Compared to terry cloth socks, canvas is much more durable. We love how soft stretchy terry cloth bags are, but fins can easily bust through the cloth within the first month of owning your bag. We still use some of the first versions of our canvas bags, 10+ years later. 
- Anti-wax liner
We line the deck of our canvas bags with an "anti-wax" liner, or the same nylon as a padded bay bag. This prevents wax from absorbing into your bag extending the life. Another thing that really bugged us about Terry cloth socks. Once wax started to melt into the bag, it was ruined & there was no getting the wax out. If wax ever gets in a Green Fuz bag you can clean it off by turning it inside out, letting it sit in the sun for a few minutes & wipe it clean. The liner also helps the bag slide on & off easier.
- Soft Hand Feel
The Cotton Canvas we use has a softer feel vs a padded bag. This is easier on your board & overall a more natural product. Some customers have said they like to use the inside of the bag to clean wax from rails & other unwanted areas. Dig it.
- Protection
Canvas protects your board from scratches, dings & other light bumps. They also protect your board from sun, sand & other elements. Keep that thing nice!
When to use a Canvas Board Bag
Traveling with your board in your car. A canvas bag will protect the interior from wax, sand, water & other elements.

Carrying your board on walks, bike rides, etc - protects arms, clothes & gear from wax & other elements.

Storing your board in a house, garage or other cool, dry place.

Light travel on car roof racks.
When not to use Canvas Board Bags
Storing your board outside and or in a wet environment. Since the bags are cotton canvas they will fade from excessive sun exposure & could mold if exposed to too much moisture. We have personally never had this happen but have had 2-3 customers tell us this. If you plan on storing your board on your deck at your Hawaii beach house. Grab a padded.

Long drives on top of a car. This one is up to you. We've driven up & down the California coast & all around Mexico with ours but we've heard a few people advise against. Again too much sun, moisture and even wind exposure if you haven't properly tied off & set up your board on the racks, could cause some damage.

Traveling on a plane. Obviously if you're jumping on a plane, grab a padded bag. We always have a canvas bag over the board in the padded bag & stack towels & boardies around the rails for extra protection.

If you tend to be harder on your boards, tossing them in & out of car or stacking items on or around we recommend you use a padded bag for more protection.