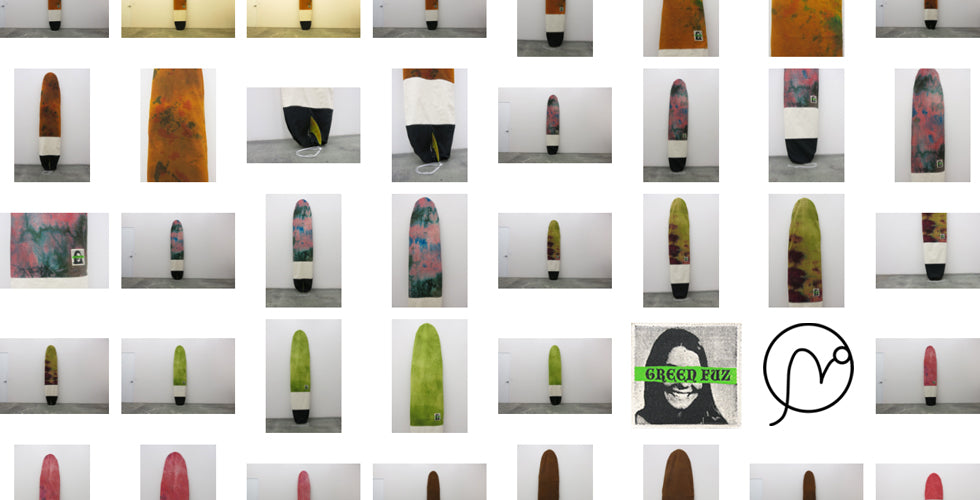 We've teamed up with our friends at Mulch California to bring you a new twist on our board bags. Each one was hand dyed by the dudes at Mulch here in San Clemente, CA. Tie Dye's vary making each bag unique, sizes & qtys are limited. Get to know Mulch in our short interview below & shop the Green Fuz x Mulch Bags here.
When and why did you guys start Mulch California (some background info)? When Mehr Alejandro, Mulch California's head designer and cofounder, was making custom clothes, he was frustrated by the ways of conventional brands. Rather than manufacturing the same products through mass production, over branding, and essentially creating waste, Mehr decided to design for upcycle, often repurposing old clothing into something new. Our idea was to design clothes that told a story and expressed individuality; our goal is to create high fashion jobs in the USA. After making pants for several NBA players in summer 14, we launched Mulch in early 2015. Just eight months ago, we launched our e-commerce www.MulchCalifornia.com
What's special about Mulch California (what differentiates you guys)? The way we do things defines us! At Mulch California, we have organically created a sustainable fashion brand where we do everything in house: our designs, pattern making, hand dyeing, cutting, and sewing. Our attention to detail in fabric selection and construction guarantees we are creating quality products. We do not mass-produce, and Mehr has a hand in everything we make.
What's your background on dyeing? We have studied many different dye techniques. Our research on artisanal methods is a major part of Mulch and what makes us unique. Every time we dye something, it comes out as magical one-of-a-kind piece. We use natural dyes, full emersion dyeing, low emersion dyeing, Indonesian batik, and ice dyeing a technique we are really pumped about right now. We incorporated ice dyeing in our collaboration with Green Fuz. As the ice melts, it separates the colors, leaving unique patterns. These bags are going to be really special!
Why did you decide to do collaboration with Green Fuz? Green Fuz brings a fresh approach to surfboard bags with their blend of punk and surf culture, so when they approached us, a fashion house known for our crazy dye jobs, we related well to the Green Fuz aesthetic. Plus, they have a similar philosophy about making their products locally in San Clemente. It made a lot of sense to collaborate with them, and it was exciting to put our artisanal touch on their product. 
What was your inspiration for your new bags? Green Fuz pretty much gave us creative freedom with this project; they said they wanted some tie-dye, and we wanted to give them something special. Mehr Alejandro came up with three color selections (green, brown, and pink), which were inspired by the 2017 runway shows. These colors would work as a solid base for the bags. Once we had those three colors, it was all about pairing them with another color that would tell the Green Fuz story. Their main inspiration was Dinosaur Jr., an old school punk rock band. We looked at some of their old album covers, and we think we nailed those ones! We can't wait to see the finished bags. This collaboration has definitely created hype. People are already asking us for the bags, and they haven't even seen them!
www.MulchCalifornia.com
@MulchCalifornia